A look back, a look forward: Suresh Kalra gives insights into our Asian business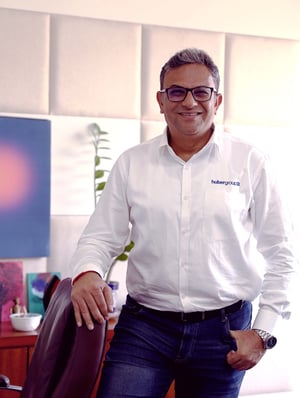 A lot has happened at hubergroup in Asia, and particularly India, over the last year: we have invested in new facilities, developed new products and technologies that are more energy-efficient and sustainable and reduced energy consumption through energy-efficient technologies and processes. In an interview, Suresh Kalra, Managing Director India & President Asia at hubergroup, tells us more about these achievements and the plans for the upcoming year with a special focus on our Chemicals division.
How did hubergroup fare in Asia last year?
Suresh Kalra: The past year was quite demanding. It started with challenges of higher demand, supply chain disruptions, and raw material cost upsurge while it ended with sluggish demand, pipeline corrections, and the management of operational and business costs.
Nevertheless, hubergroup developed innovative products with unique properties as well as efficient and environmentally friendly manufacturing processes to meet customer needs. We met sustainability goals by reducing environmental impact, improved safety, expanded into new markets and collaborated with many new business partners.
And there were some further highlights for us: We started our Global IT Centre of Excellence in India where services like network, security, and data centre of hubergroup worldwide are now delivered from one single location. Our innovative products MGA CONTACT and Oxygen Barrier Coating won awards for innovation and the launch of our eco-friendly new water-based ink portfolio HYDRO-i, developed jointly by the R&D teams of India & Germany, has been accepted and appreciated by the packaging industry.
What's your Asia/India strategy for FY 2023-24?
Suresh Kalra: Our Asia / India strategy in the current scenario is to focus on sustainability, energy efficiency, and collaboration with stakeholders to drive innovation and growth in a rapidly changing market. We are investing in research and development to develop new products and technologies that are more energy-efficient and sustainable.
We are also expanding into new markets to explore with a broader focus. We separated our Chemicals business from our Print Solutions business in 2020 to be more focused and provide solutions tailored to our customers. We also continue to focus on our employees' well-being and strive to increase diversity in the workforce.
How has the Chemicals division performed in Asia/India in 2022-23 and which products do you plan to launch this year?
Suresh Kalra: Our global Chemicals division performed well in FY 2022-23. However, we have had higher expectations from the Asian/Indian market due to the region's economic growth, and rapid industrialization as well as urbanization. The industry has faced challenges such as rising raw material costs, environmental regulations, and increasing competition from other regions. Moreover, the COVID-19 pandemic has impacted the industry, causing disruptions in the supply chain, and reducing demand from certain sectors. Overall, the chemicals business in Asia/India is expected to grow significantly higher than the GDP (gross domestic product). Going forward our focus is to enhance our business for radiation curing systems which includes UV oligomers (polyester acrylate, polyurethane acrylates, epoxy acrylates) and monomers. Thus, we inaugurated two new state-of-the-art chemical plants for UV oligomers and monomers at our site in Vapi this year.
Recently, we participated in the European Coating Show (ECS 2023) to showcase the product portfolio of our Chemicals division and received overwhelming responses.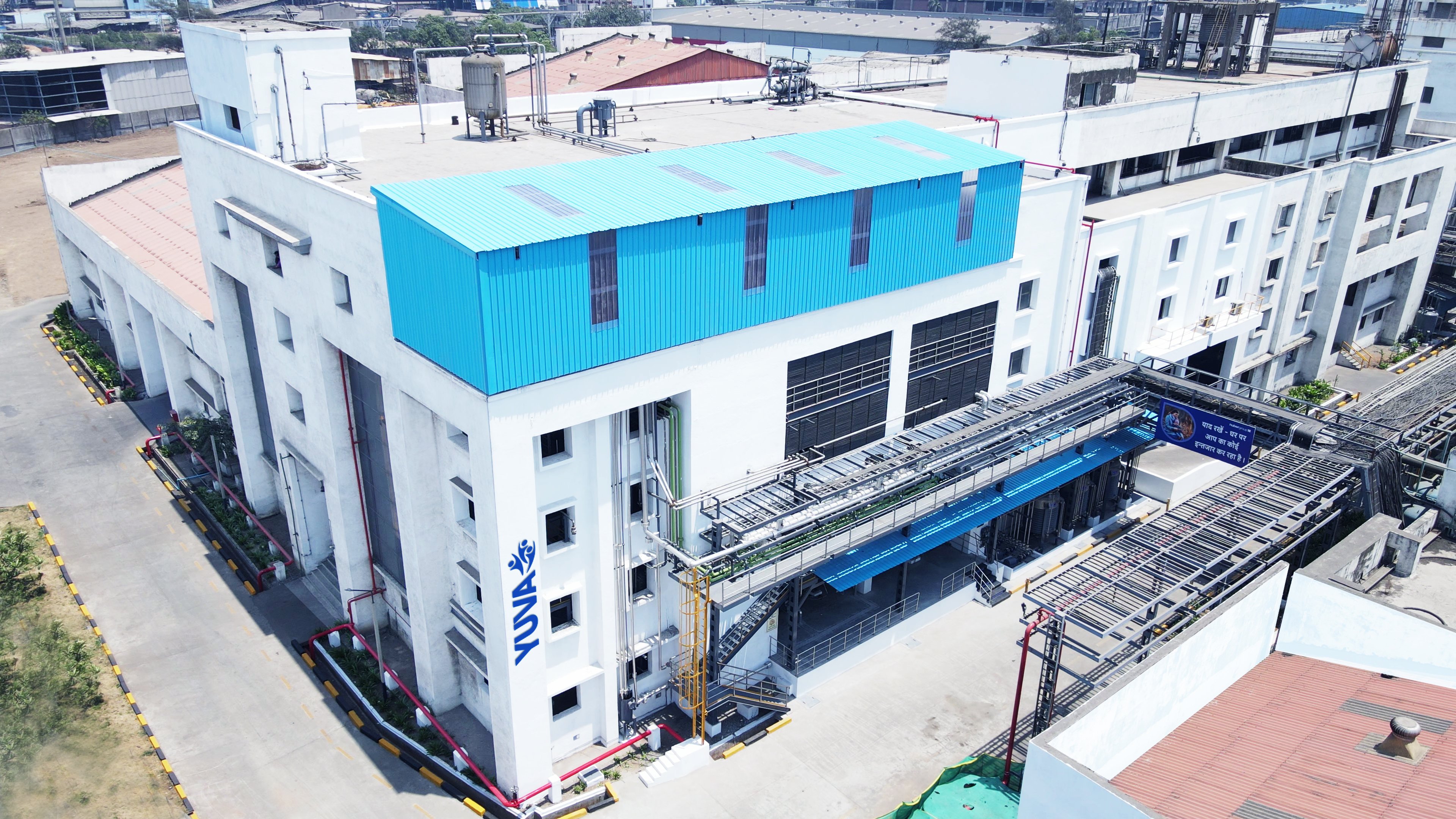 Our new state-of-the-art chemical plant for UV oligomers at the Vapi site.
Which new technologies/products are you currently working on in this business segment?
Suresh Kalra: We are working on developing new products with increased use of bio-based raw materials to fulfil our commitment towards sustainability. We want to offer eco-friendly products to our customers while ensuring compliance with changing regulatory requirements. Drawing on our knowledge of resin design, our focus is to provide resin products like UV oligomers, modified Rosin resin, polyurethane resin or polyester resin that meet various requirements of the printing, packaging, and coating industries. These efforts will enable us to expand our chemical business portfolio and cater to a larger market size.
What are your expansion plans for the Chemicals division in the upcoming year?
Suresh Kalra: We are excited to expand our UV oligomer, monomer and ketonic resin product range. At the same time, we are also exploring the possibility of collaborating with some of the leading companies for custom manufacturing. We are seeking synergies that can complement our assets and strong operational know-how to achieve greater business efficiencies and customer satisfaction.
hubergroup offers a wide range of products for use in radiation-curing systems. Can you share some use cases for this product category?
Suresh Kalra: Radiation-curing systems have a wide range of potential uses and customers in various industries. The printing industry is the biggest: Radiation-curing systems are used in the printing industry to cure inks and varnishes on various substrates such as paper, plastic or metal. Additionally, they are often used in the coatings industry for automobiles.
Another focus area is wood coatings. Can you give an overview of the Indian market? And when are you planning to launch this product in India?
The wood coating market in India has been growing steadily over the years, driven by increasing demand from various end-use industries such as furniture, construction, and automotive. The market is expected to continue its growth trajectory in the coming years, thanks to rising disposable incomes, urbanization, and increasing construction activities in the country.
At hubergroup, we have some unique solutions like UV oligomers (polyester acrylate, urethane acrylate, epoxy acrylate), functional resins, monomers (TPGDA, DPGDA, PETIA, GPTA, EOTMPTA, PPTTA, DPHA), conventional resins (modified Rosin, polyurethane) specially designed for the wood industry to enhance coating performance.
hubergroup is also providing chemical substances such as PU resins and UV oligomers in their purest form. How are you positioned here?
Suresh Kalra: The progress for PU resins and UV oligomers is good. We launched several products in 2022-23 that are technologically well-accepted and are now adding capacities to scale up our production and optimize costs. We also have products for the wood coating segment now.
Which steps are taken by hubergroup India to promote eco-friendly production and a circular economy?
Suresh Kalra: At hubergroup, we have placed a great emphasis on sustainability for many years. We have been a pioneer for eco-friendly printing solutions such as cobalt-free inks and we will continue this approach for our Chemical segment as well!
We have taken several key steps to improve sustainability and adopt circular economy principles like measuring and tracking environmental impact, adopting circular economy principles to design products for longevity, setting sustainability targets, engaging with suppliers, investing in renewable energy, and promoting sustainable products and partnerships with stakeholders.
At our largest production site in Vapi, India, we have, for example, implemented photovoltaic systems and a Multi Effect Evaporator (MEE) into operation, a state-of-the-art technology which ensures efficient processing of the site's effluents.
Which steps are you undertaking to achieve Net Carbon Zero?
Suresh Kalra: We continue to build strategies and find innovative ways to minimize our carbon footprints. At our sites in India, we are reducing energy consumption through energy-efficient technologies and process improvements. We have also implemented photovoltaic systems in our plants and are fostering the use of renewable energy sources like wind and solar.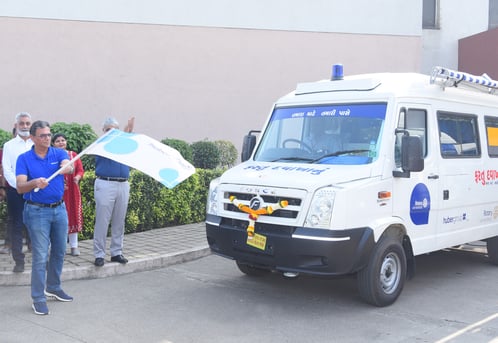 Last year, hubergroup India launched a healthcare initiative for rural areas in the Indian state of Gujarat, collaborating with Rotary Vapi Riverside. How was this programme accepted and which other CSR activities are you planning?
Suresh Kalra: hubergroup has production sites in Daman, Vapi, and Silvassa – so many of our employees live in these regions. We believe in contributing and giving back to the people in our neighbourhood. Our endeavour to provide quality healthcare services at the doorsteps of rural residents complements government-promoted health programmes. Our services through two mobile medical vans were well accepted by villagers. This prompted us to add two more vans, one for dental and one for eye care in March 2023. Moreover, we donated a high-end digital mammography system to the newly inaugurated Mammography Department at Shreyas Medicare Janseva Hospital Vapi, India. Going forward, our CSR activities will once again be committed to service in the health and education sector this year.
Comments