Box vs. bar: New sustainable cardboards for the printing industry
Admin
-
February 11, 2021
At hubergroup, secondary packaging is much more than just an effective protection for safely transporting products to the customer. It is an important element in the logistics process in order to optimize economic processes as well as aspects of sustainability. This does not only apply to internal group processes. Our focus was also on customer processes when designing cardboard boxes: How quickly can the packaging be opened on site? How can we reduce waste at customer's side?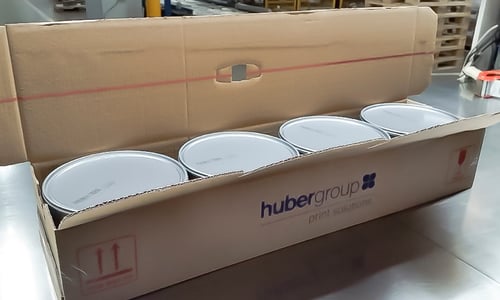 Analysis on site
We carefully analyzed and took into account in advance the needs of customer processes. Thus, these and other questions needed to be clarified before introducing newly designed cardboard boxes. This applies to 2.5 kg and 1.5 kg cans and 2 kg cartridge boxes with the intention of optimizing and automating internal packaging processes.
Oliver Eigenbrod, Project Manager SCM and Logistics at hubergroup Germany, explains: "The most important change is the elimination of a separate perforated plate as an inlay, which is now integrated into the carton material. This reduces waste, as polystyrene is no longer needed as a filling material. In addition, the new carton box can be opened quickly with a tear strip: a small but significant efficiency advantage in our customers' daily operations."
Introducing new cardboards in 2021
We have already been using environmentally friendly paper since 2020. However, this was only the first step towards more environmentally friendly packaging at the printing ink manufacturer. Now, the company is introducing completely redesigned boxes for 2.5 kg and 1 kg cans worldwide: a variant with wrap-around folding as well as pop-up boxes with divider. Likewise, 2 kg cartridges turn also up in a revised carton.
What advantages do customers have exactly from redesigned cardboard boxes for 2 kg and 1 kg cans?
Opening with one movement
Less packaging material such as styrofoam
Better handling and more stability compared to the standard bar box
Switched to environmentally friendly paper
We offer our partners relevant advantages with introducing newly designed secondary packaging for print cartridges. This applies to the product areas of sheet-fed, UV and PRINTLAC. The biggest change is that the previous separate inlay – a perforated plate for fixing the cartridges – is now firmly integrated into the cardboard material.
The advantages of the new cardboard packaging for cartridges for customers in detail:
Less packaging waste due to the omission of a separate inlay
Can be opened with one hand using a tear strip
The changeover of the cardboards will take place gradually and is expected to be completed by the end of 2022. "Our new wrap around boxes for 2.5 kg and 1 kg cans will completely replace our standard bar boxes for these sizes. Besides the environmental aspect, they are much more robust and stable and therefore more effective to handle for our customers. This has been proven by extensive tests with various parcel service providers," explains logistics expert Oliver Eigenbrod.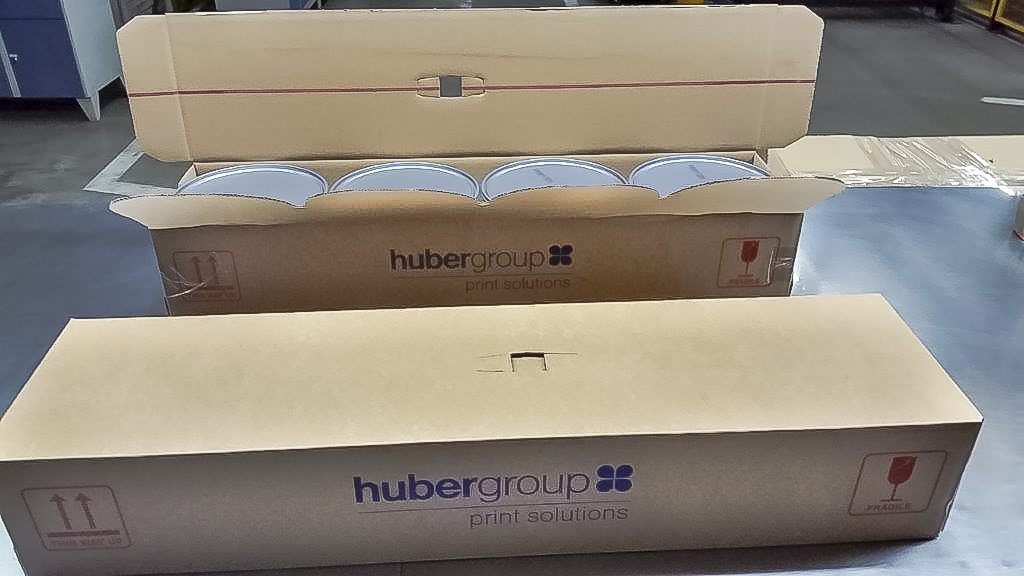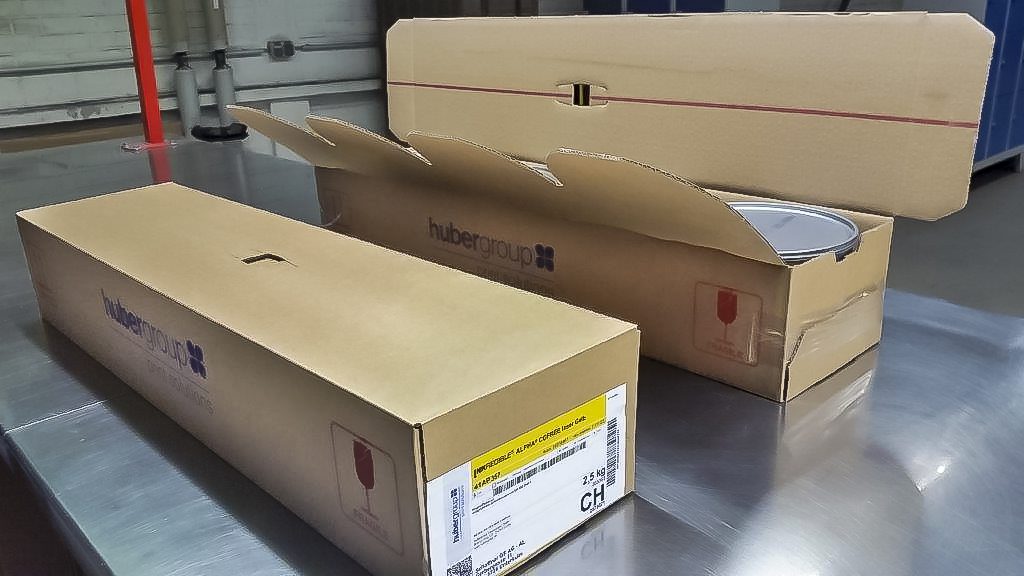 Comments