Gecko Green Line Premium: Another step towards sustainable packaging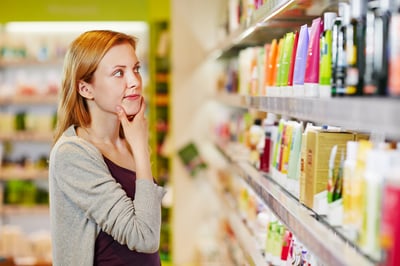 Which shower gel should I buy? Consumers are increasingly including ethical and sustainable aspects in purchasing decisions like this. When it comes to everyday products, the topics of waste reduction and sustainable packaging are particularly high on the list (Deloitte, 2021) So, it's no wonder that the issue of sustainability is also high on the agenda of packaging manufacturers, printers, and ink manufacturers – and thus also at hubergroup Print Solutions. But it's not just about consumer demand ...
"Of course, we take customer requirements into account of our research work, but when it comes to the issue of sustainability, our commitment goes beyond that. We develop sustainable products out of a conviction that this is the right way to go," says Dr Lars Hancke, Business Development Manager Flexible Packaging at hubergroup. No wonder, then, that sustainability is viewed holistically at hubergroup. But how does this manifest?
Firstly, we continue to improve the sustainability of our products step by step. Let's take Gecko Green Line Premium as an example: Back in 2018, it was the first flexographic and gravure ink series worldwide to receive the C2C Certified Material Health CertificateTM at the Silver level. Since then, we have pushed the issue of sustainability within the company so that the series has recently received full certification at Bronze level. As part of this certification, the Cradle to Cradle Products Innovation Institute does not only evaluate environmental and human toxicity ("material health") but also the categories of recyclability/circularity, use of renewable energy & carbon management, responsible water management and compliance with social standards. Despite the certification, we have made sure that the printing process is not affected: "Printers and packaging manufacturers can use our Gecko inks as usual. The certification has no impact on the application – it just gives our customers the assurance that we use high-quality, sustainable, and forward-looking products," says Dr Lutz Frischmann, Global Product Director Flexible Packaging.
Secondly, hubergroup does not just have one sustainable ink series. We offer printing inks with full Cradle to Cradle certification for water-based and solvent-based flexo and gravure printing as well as for offset printing, enabling a wide range of applications. Dr Lutz Frischmann concludes: "This makes us one of the companies with the broadest portfolio of sustainable printing inks and shows that we are preparing ourselves for the challenges of the future."
Bildquelle: Robert Kneschke / Adobe Stock
Comments