How our hubergroup calendar 2019 came to life
In this article, Roland Schröder, Product Manager UV at hubergroup, provides a look behind the scenes of the production of hubergroup's annual calendar.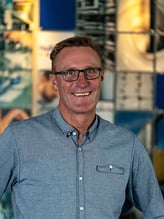 We've been producing our annual calendar for 50 years now, and it's something our customers really look forward to. Each year, we look for new ways to present innovative printing and finishing techniques that can inspire recipients in their own businesses.
For 2019, we wanted to make a modern art calendar that was different from the previous ones. Our first step was to create the graphic design, and after all calendar pages were designed, the finishing elements were determined. We had artists hand-draw art with the theme "sharing time & common strengths" and then scanned the images.
Once the artwork was completed, we began determining what finishing elements to use, including cold foil and unique approaches with varnish. This is a huge team effort, in which hubergroup staff, our artists, and our printing partner Koenig & Bauer participated. Within the theme, we gave our artists free reign to exercise their creativity. But we also wanted to have examples of printing and finishing techniques that most shops could produce as well as some examples that would stretch goals for many shops such as cold foil or double coating.
The key is to produce the calendar at the highest possible quality level. This year's designs presented a few challenges. For example, the April Lion image has lots of structure in the face. This was produced with two different varnishes, with the last varnish on full surface of the calendar sheet. The biggest challenge for the designer was to be able to define layers in the file that could denote down to the level of individual hairs on the lion where the varnish needed to be applied.
For 2019, we printed 12,500 calendars, and by the middle of December, we already ran out of them!
Roland Schröder
Comments