hubergroup Italia implements trigeneration plant for eco-friendly production
How can we design our processes and products more sustainably? At hubergroup, we deal with this question every day in order to shape and contribute to a sustainable future. One of the most our most recent measures in this area is the implementation of a trigeneration plant at our production site for solvent-based inks in Bolzano Vicentino, Italy. We spoke to Stefano Zuliani, Head of Operations Flexo and Gravure Europe at hubergroup, to learn more about what this facility can do and why it is an important building block of hubergroup's sustainability strategy.
Stefano, thanks for taking the time. First of all, can you please explain to us how a trigeneration plant works?
Stefano Zuliani: A trigenerator is a unit, fed with natural gas, in which a motor produces electrical energy. The big amount of heat generated by this process is recovered directly in the same plant, thus, generating heating energy or – with an absorber – cooling power which is used in the production process. The combination of those energy outputs allows a much more efficient management of the total plant energy intake.
How did the decision come about to implement such a system in our production in Bolzano Vicentino?
Stefano Zuliani: Although we are not an energy-intensive company, we work in a sector that is characterised by a huge demand for electricity, heat and cooling energy, with energy consumption costing now millions of euros each year. Our manufacturing process, for example, uses energy-intensive plants to grind and micronize raw materials. During the production cycle, the machines themselves develop heat, which is removed using cooling energy. To reconcile our economic and environmental objectives, we found that a trigeneration plant could be a good solution. For this reason, we asked the Italian company Centrica Business Solutions to conduct an energy audit – and, as a result, we equipped our site with a 1MW trigeneration plant.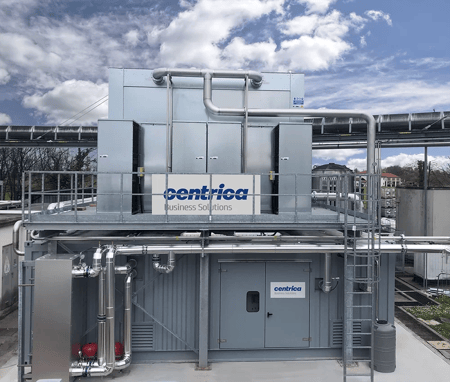 How satisfied are you with the performance of the plant?
Stefano Zuliani: The facility covers 84% of our refrigeration needs, 90% of our electrical needs, and 98% of our hot water needs while delivering a net annual cost saving of up to 20%. In addition, there are also significant benefits for the environment, as the trigeneration plant enables us to avoid the emission of 420 tons of CO2 per year. Consequently, we are very satisfied with the plant's performance.
The trigeneration plant is also hydrogen-ready. What does this mean?
Stefano Zuliani: It means that we will be able to use hydrogen technologies once they will become commercially available on a large scale to fully decarbonise processes. So, we are already preparing for future energy solutions.
Are you planning further steps to make production in Italy even more environmentally friendly?
Stefano Zuliani: Yes, we definitely are planning further steps. The trigeneration plant is a great solution for our site. However, this is not the end of our energy journey. Next, we will continue to expand the energy supply from renewable sources, in particular solar and e-mobility. At the same time, we keep striving to make our entire process more efficient.
Comments