HYDRO-X Green Line Premium: Sustainability with a system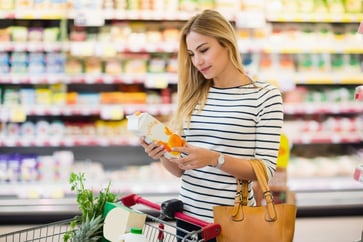 More sustainability and flexibility for printers and packaging manufacturers – that is our promise for HYDRO-X Green Line Premium, hubergroup Print Solutions' new water-based ink mixing system for flexo and gravure printing. In an interview, Dr Christian Schirrmacher, Global Project Manager Water Based Inks at hubergroup, tells us the details about this product launch.
What is special about HYDRO-X Green Line Premium?
Christian: HYDRO-X Green Line Premium is a modular mixing system for water-based inks, in which all ink concentrates, blends, and additives are matched to each other. For our customers, this means that they can select exactly those components from the portfolio that their packaging requires. In addition to that, it was important to us that our entire water-based product range is designed sustainably. So, we have focused on an environmentally friendly formulation and production. Every single component of the system is therefore Cradle to Cradle Certified® Bronze. Printers and packaging manufacturers can thus be sure that they can produce both sustainable and colourful packaging with HYDRO-X Green Line Premium.
Why did you decide to have HYDRO-X Green Line Premium certified by the Cradle to Cradle Products Innovation Institute?
Christian: With the external evaluation, we want to give our customers transparency and security about the environmental impact of our inks. The Cradle to Cradle Products Innovation Institute evaluates products based on the criteria of material health, material reutilization, renewable energy & carbon management, water stewardship, and social fairness. So, it has one of the most comprehensive approaches – that's what we like about it.
Does the Cradle to Cradle certification affect the usage of the inks?
Christian: No. Printers who want to use the Cradle to Cradle Certified products of our HYDRO-X series do not have to change their processes and can expect the same good performance and shelf life as before. Brand owners can also use the same designs and packaging forms as before – only more sustainable.
For which applications is HYDRO-X Green Line Premium suitable?
Christian: Thanks to the modular system, it covers a wide range of applications in flexo and gravure printing – from flexible packaging made of paper, aluminium or plastic film to corrugated board or folding cartons. In short: HYDRO-X Green Line Premium combines a wide colour gamut and sustainability with a broad field of applications.
More information: Cradle to Cradle Certified Product Scorecard for HYDRO-X Green Line Premium
Comments