Inks for safe and sustainable packaging development
Packaging is the calling card of a product. It gives the first visual and tangible impression to prospective buyers. For food, packaging plays a particularly important role as it provides consumers with a range of crucial information regarding ingredients, nutritional values etc. Plus, packaging has practical functions such as protecting its contents against damage or from going bad. We talked to Prasanta Sarkar, General Manager Technical at hubergroup India, about the role of inks in safe and sustainable packaging and the migration of substances from food packaging materials.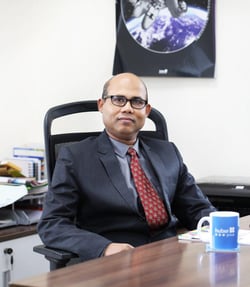 What role does printing ink play in food packaging and its safety?
Prasanta: "Many of the packaging functions mentioned such as information about nutrition, can only be fulfilled if it has printing ink applied to it. Ink is the often-unnoticed information medium that both simplifies and makes our lives safer in many respects. Therefore, we need to understand what kind of substances can be transferred from packaging material to the food packed inside.
Generally, any transfer of substances – which is referred to as migration – into food is important because it can have two negative impacts on food:
specific substances could be harmful to health if small amounts are consumed with the food on a regular basis (food safety)

migrants might deteriorate the organoleptic properties or change the composition of the food (food quality)"
How does the migration process from packaging to its contents happen?
Prasanta: "It happens in three different ways:
Through-migration

: Substances of low molecular weight from the ink and coating films as well as from the substrate can pass through the substrate and to the food inside.

Invisible set-off:

Due to the nature of the production process, the side of packaging that faces the contents of the package in the finished article comes into contact with the printed side while on the press – in the stack in case of sheet-fed printing and on the reel in case of flexible packaging. This means there is a possibility of colourless and therefore invisible ink constituents being transferred to the food contact side.

Substance transfer via gas phase:

volatile substances in the enclosed air space inside packaging can transfer to the food via the gas phase and have a negative effect on its smell or taste.
Folding cartons and to some extent paper wrappers are frequently printed in the sheet-fed offset process. Standard printing inks for the offset process use vegetable oils, mineral oils or low-molecular fatty acid esters as their solvent, whose migration to the food can be prevented only using barrier layers."

Which types of barriers can be used for this purpose?
Prasanta: "There are three types of layers:
Permanent barriers

: glass and metals act as a reliable barrier to ink constituents. In the case of aluminium foil, it must be thicker than 10 μm. Migration through permanent barriers is inherently impossible. Nevertheless, an eye must be kept on the possibility of invisible set-off occurring in the finished packaging.

Plastics films and layers are functionally specific barriers

- i.e. plastics possess very different barrier properties in relation to different substances. For instance, while OPP films are a good barrier against water, they provide absolutely no barrier to many components of printing inks, such as mineral oils or some photoinitiators in the case of UV systems. In the case of plastics, the degree of migration that takes place is dependent on the migratable substances, the structure of the plastic layer and the temperature.

Non-functional barriers:

paper and board pose no form of barrier at all to the low molecular components of printing inks. This means that the solvents described above can migrate through the substrate."
Comments