Interview with our Chemicals Sales experts
We talked with our Sales experts Dr Marc Hoppe and Rajendra Kamat regarding the first months of chemicals division, the challenges and tasks and changes they have to face right now.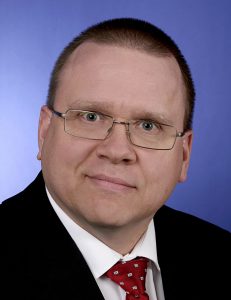 Mr Hoppe: You are Director Business Development & Sales Europe for the European market of the chemicals division. Where do you see the most potential?
The well-known printing ink manufacturers in Europe form an important market. We are already in contact with the major ones; in some cases, business relations date back to the time before the chemicals division was founded. However, in the three months of "chemicals" we have already been able to generate initial orders from new customers.
In addition to the customers we serve directly, we are in the process of concluding cooperation agreements with distributors worldwide. We have already concluded agreements like with Nordmann for many Central and South-East European countries, for the UK and also for the USA. We are currently in the middle of negotiations for South West Europe. And for South-East Asia, for Australia and New Zealand, but also for countries such as Saudi Arabia, Bahrain, Egypt and Nigeria, talks are already under way. Another focus is on China, Japan and South America.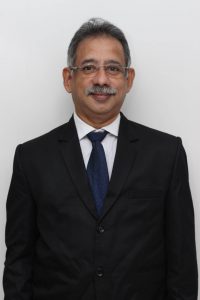 Mr Kamat: You are Sales Contact for Asia Pacific, Africa and Middle East. How do you think these customers differ from the European ones? (Requirements, needs etc.)
What we have noticed in Asia Pacific, Africa and Middle East is the fact that customers are more price sensitive. This may be because of availability of almost all the chemicals locally. The market is highly competitive between manufacturers, especially for resins & pigments. One more peculiar characteristic we have noticed is, that customers prefer to buy consignments in small quantities due to easy availability of LCL (=Less than Container Load) Shipments or LCL Consolidations with other products.
Mr Hoppe: Now you are selling what you were purchasing for a few years. You know the market very well. What do you currently see as the biggest challenge for the chemicals division?
A major challenge will initially be to make ourselves known to the market as a "new" supplier of raw materials or semi-finished products for the printing ink industry and related applications. Often, the wide variety of products developed by us and manufactured at our Indian sites is not known. Especially in the area of "non-commodities" such as polyurethanes, laminating adhesives and adhesion promoter, we see good opportunities to impress customers with our well-proven "high-end products".
Mr. Kamat: hubergroup has been in the market as a printing ink manufacturer for over 255 years and has built up a high level of awareness and excellent reputation in this field. hubergroup has also built up in-depth expertise in raw material production in recent years. How easy/difficult is it to set up a new, independent sales network under the new umbrella of the chemicals division? What is the strategy here?
Marketing hubergroup chemicals brand as one-stop solution for all printing ink needs should be the strategy. For example, I always tell my prospective customers that the ketonic resin I sell is the same that is used by our hubergroup colleagues from the print solutions division. This raises confidence in customer. A high-quality customer end-to-end solution for their ink manufacturing process is needed.
Customer always appreciate our expert advices. For example, a recommendation for choosing a particular PU Resin over another for a particular application. Or explaining the benefits and helping them with startup formulation. This is the key to success.
Mr. Hoppe: What is your expectation for the next year? (e.g. customer acquisition)
Firstly, I hope that the current corona-related restrictions will be significantly reduced. As far as distribution is concerned, we expect having built up a global network latest by the end of 2021.
With existing direct customers, our objective is to expand the existing business. With new customers, we strive successful completion of the projects initiated.
Further new customers have to be acquired. We are currently building up a database of potential customers to support this process.
Mr Hoppe, Mr Kamat: What is your experience from the first few months since the official launch of the chemicals division? Are there any fears on the part of customers that both divisions will operate independently but still under the umbrella of the hubergroup?
MH: The topic "Now you are a supplier of raw materials and at the same time a competitor for printing inks" is a very decisive one and we encounter it again and again. Here it is of eminent importance, on the one hand, to gain external trust. On the other hand, it is important, to promote and ensure a consistent separation internally.
It is often the case that a group of companies is both: a supplier of raw materials and a competitor for finished products. We know it from the printing ink market. Let me give you an example from my previous work in B2B sales of food raw materials either: We sold sweeteners to the confectionery industry and at the same time we had a chocolate manufacturer within the group. The absolutely consistent separation of the divisions is decisive for protecting hubergroup's own know-how in the finished product sector. The same applies for the chemicals division's customers. If we do not stick to that, we risk the success of hubergroup chemicals and thus of the entire company.
RK: We didn't get a surprise question from our existing raw material customers yet, since the customers we are handling are only dealing in raw materials, we do not have a customer where we sell print solutions + chemicals, hence bringing raw material customers to chemicals umbrella won't be any issue.
Mr Hoppe, Mr Kamat: Are there intersections in your work? Joint projects, topics?
RK: All work and projects in-hand are jointly discussed, communicated and reviewed. It is a team effort. Happy to get in close contact with my colleagues, who made me learn so many new things from the chemical's perspective.
MH: And after all, it should not be forgotten that long before the decision was made to set up hubergroup chemicals, colleagues in India were also selling raw materials from India to Europe and America. This is what we are building on together. And the important development of an international distribution network is a very closely coordinated international project.
Mr Hoppe, Mr Kamat: How do you manage to be in close exchange across two continents?
MH: We are a multinational company. The cooperation within hubergroup worldwide works excellently. New tools, like "MS Teams" are very beneficial. Thus, we were able to map our common new structure here right from the start. Often several times a day, teams "just call" the colleague on the other continent, which makes the cooperation almost as if the colleague was only on another floor in the same building – really effective. It goes without saying that certain time windows must be observed when meeting colleagues from the USA, Europe and India.
For me personally, I can say that I already worked very closely with my Indian colleagues in my function in international raw materials purchasing. My numerous trips to India in the past seven years – four times last year alone – with visits to all hubergroup India production sites further facilitate the cooperation and form the basis for a good mutual understanding.
RK: I totally agree in what Marc said. Thanks "MS Teams" collaboration works pretty well, whether it is an internal meeting or joining group meeting with prospective customer. I think one good thing Covid has enforced is utmost use of technology to remove communication barriers. Whole world is available on a single platform doesn't matter if it is a laptop or cell phone – you are always connected to everyone internally and externally 24/7.
Comments