Passionate, focused & determined: Vivy DaCosta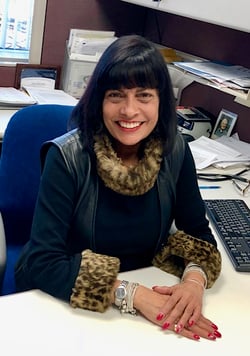 Detailed knowledge about the printing industry, passionate about making the difference, and going the extra mile to achieve the nearly impossible – with these words NAPIM, North America's National Association of Printing Ink Manufacturers, described Vivy DaCosta, Vice President at hubergroup Canada, when presenting her with the famous AULT Award.
The AULT Award, which was established in 1954, is one of the most respected awards in the North American printing ink industry and honours industry leaders who have made significant contributions to advance the industry. Receiving the AULT award is a well-deserved, great honour for Vivy, who has been working for hubergroup for forty years. We talked to Vivy to learn more about what is driving her on a professional as well as personal level.
1. What are your tasks at hubergroup?
I have a dual leadership role at hubergroup Canada – VP Administration and Sales Directorate. Virtually every hour of each day, I move back and forth between these two areas, working with different teams at hubergroup Canada.
Half of my administration duties involve working on behalf of our employees. Union issues, employment benefits, health and safety, company policies. The other half involves day to day general financials: accounts receivable/payable, budgets, vendor agreements.
My job as Sales Directorate adds interesting twists to the working day. I work with the Sales team to develop customer relationships, sales presentations, negotiations, and goals. Our customers have different and changing requirements from their clients. Helping both, the Customer Service team, and the Sales team, tracking and meeting these requirements is what keeps me on the move.
2. What does a typical working day look like for you?
The great thing about my job is that each day is different. New challenges are always coming up as I interact with a variety of internal staff and external customers. I need to continuously multi-task to resolve any issues and to enhance the service we provide to our customers and each other.
3. You have been working for hubergroup for 40 years now. What were your personal milestones during this time?
My key objectives and goals over the last 40 years have always been to learn as much as possible about the company and the industry that I work in. Furthermore, always looking for opportunities where I could make a meaningful and sustainable contribution, internally as well as externally. And finally, to excel and be the best at what I do.
4. What was your best moment at hubergroup so far?
It's an accumulation of moments. Foremost meeting and building relationships with many interesting and exceptionally talented hubergroup colleagues from around the world (mostly at Drupa) and learning about their experiences in our industry.
5. What fascinates you in meeting people from around the world?
I would consider myself a multicultural person as I was born in Kenya, raised in India, and settled down in Canada. The more touchpoints one has with people from different backgrounds, the more one learns about different habitus. I feel this as broadening and enriching my own horizon and level of empathy. Gaining a better understanding of people, their behaviour, their traditions, their decision-making processes etc. is also highly relevant and interesting on a professional level.
6. If you had to name your biggest professional achievement, what would that be?
Being the first woman in the Canadian Printing Ink Industry to make it into the ''Million Dollar Sales Club'' through sheer determination and dedication in an industry I grew to love.
7. Looking ahead, what do you personally identify as the biggest challenge for the printing ink industry within the next years?
Ensuring that our industry stays one step ahead of the change and technology that will determine how best we proactively respond to our customer's needs at an affordable price. Furthermore, to succeed in the ongoing war for talent, meaning that we attract and recruit young professionals to pass on our expertise and great experience.
8. … and where do you see its biggest opportunity?
Printing inks will always be in demand. Producing what the customer wants at an affordable price and constantly looking for new ways to innovate will give us the edge and present us with new and increased opportunities.
9. What do you do when you are not working?
Travelling to interesting places in the world, the Douro wine region in Portugal is for example one of my favourite spots. In general, I love meeting unique people and renewing old acquaintances. I simply draw so much positive energy from these personal encounters. Another passion of mine is gardening, cooking and I take a keen interest in artefacts, reflecting on how our printing industry may have contributed to their splendour.
10. And last but not least, what is your favourite colour and why?
Blue. It makes me feel peaceful, gentle, harmonious yet strong.
Comments