Pioneering for eco-friendly fountain solutions
Admin
-
November 28, 2019
While the sustainability of printing inks has gained importance among printers and brand owners in recent years, the environmental performance of fountain solution concentrates has received less attention in the market so far. At hubergroup, however, we pursue a holistic approach to sustainability. So, when we reformulated our SUBSTIFIX-AF in 2018, we were one of the first companies offering eco-friendly fountain solutions to our customers, which went beyond legal regulations.
Our SUBSTIFIX-AF was formulated for alcohol-free printing and is designed for sheetfed printing on presses with alcohol dampening units. But despite the lack of IPA, it has a large working window and is therefore ideal for printers, who want to banish volatile organic compounds (VOC) from their pressroom. In addition, our SUBSTIFIX-AF doesn't contain butyl glycol, a raw material currently under review for reclassification by the Committee for Risk Assessment (RAC).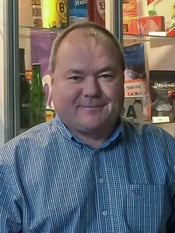 Frédéric Kocher, Head of Product Development Fount at hubergroup Germany, explains, "As soon as the RAC expressed its concerns about the use of butyl glycol last year, we started reformulating our fountain solution. It is important for us to guarantee our customers the highest level of safety and environmental compatibility, so we pay great attention to using harmless raw materials." Thanks to this careful selection of raw materials, which also takes into account the exclusion policy of the European Printing Ink Association EuPIA, our SUBSTIFIX-AF meets the requirements of various eco-labels such as the Blue Angel, the Nordic Ecolabel or the Austrian Ecolabel.
Frédéric Kocher adds, "hubergroup has been a pioneer for fountain solutions since offset printing has established itself as a printing process. Today, we use this pioneering spirit to adapt our products to future regulatory requirements – such as the reclassification of methylisothiazolinone which will come into effect on May 1, 2020 – and to further reduce the environmental impact of our fountain solutions."
Comments