The world of metal packaging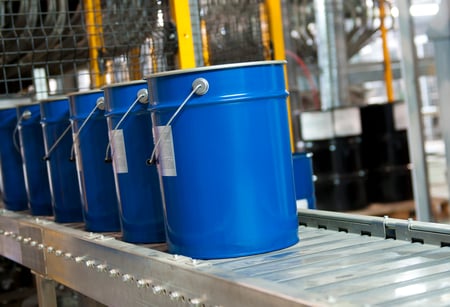 From crown caps to spray cans and paint buckets – metal is used in a wide range of packaging solutions. Metal packaging does not only reliably protect products from heat, moisture and light, but also ensures a high-quality appearance at the point of sale. So, it's no wonder that metal packaging is popular and plays an important role in our daily lives.
Every three years, there is therefore an international event dedicated entirely to the world of metal packaging – METPACK. At the world's leading trade fair, numerous global players present sustainable and cost-efficient solutions for the production, finishing, coating and recycling of metal packaging. hubergroup Print Solutions will also be participating with a stand for the first time this year to showcase its one-stop portfolio for metal packaging. We talked to Jan Museler, Product Manager Metal Decoration, and Luca Boni, Sales Director Southern Europe Offset Inks, to learn more about their plans and expectations for METPACK.
Why did you decide to exhibit at METPACK?
Luca Boni: hubergroup has been active in the metal deco field for decades but we have only worked with a few major accounts so far. Now, we want to make our portfolio accessible and known to a wider audience. METPACK offers the optimal platform for this.
Jan Museler: We also want to establish contact with customers from all over the world and prove to them that we have the expertise and network to provide them with worldwide services and technical support on-site. And, of course, we also have a few novelties that we would like to introduce.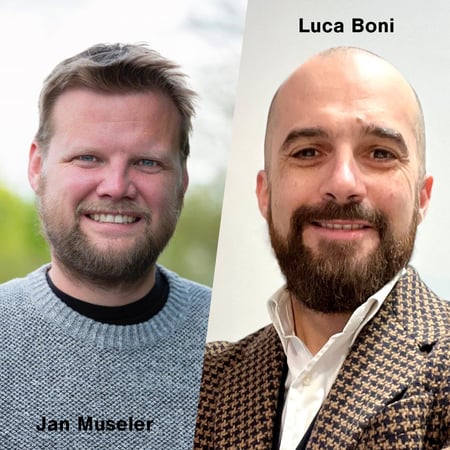 Which novelties are these and what can METPACK visitors generally expect from hubergroup at the fair?
Jan Museler: In the past, our portfolio in the UV sector was not particularly strong - we have changed that. In recent years we have put a lot of research work into our NewV tin series, which not only convinces with good printing results and high scratch resistance but also cures quickly. We have added LED UV inks and varnishes to the portfolio and also relaunched our NewV tin MGA series, which was specially developed for food packaging. The word MGA is derived from "Migrations- und GeruchsArm" – German for "low migration and low odour" – and guarantees particularly careful raw material selection and safe manufacturing practices.
Luca Boni: Besides these new products, we want to show above all that we have a very broad and sustainable portfolio for metal decoration. It includes both conventional and UV inks and coatings as well as the matching fountain solution additives. Thus, printers get everything from a single source. The products are matched to each other and the printers only have one contact person.
In your opinion, why should metal deco printers decide for hubergroup's inks?
Jan Museler: Our metal decoration portfolio is characterised by three factors: comprehensiveness, quality, and service. We have globally available portfolio that includes both UV and conventional inks and coatings as well as fountain solution solutions. We can offer process inks as well as our mono-pigmented mixing system for spot colours. And, finally, our products cover a wide range of food and non-food applications such as aerosols, closures and crown caps, trinket boxes, fasteners, packaging for chemical-technical products (CT packaging) and decorative steel sheets.  
Luca Boni: Quality shows through high colour intensity, excellent scratch resistance and eco-friendly formulation that supports future-oriented packaging solutions. As a large proportion of the raw materials derives from our own production, we can also ensure high quality and environmental standards along the value chain. On top, we support customers in the implementation of the products and offer on-press support whenever needed.
Which team will represent hubergroup at METPACK?
Jan Museler: In addition to Luca and me, Roland Schröder, Product Manager UV Offset, as well as Burak Sezerel, Sales Manager Offset Inks Turkey, and Robert Jong, Sales Manager Offset Inks Benelux, will be representing hubergroup at METPACK.
What are you personally looking most forward to at METPACK?
Luca Boni: I'm excited that we will have the chance to present our business philosophy to a large audience and to create new relationships. It will be interesting for us to better understand the needs of metal deco printers and find a solution tailored to their needs together.
Jan Museler: I'm also looking forward to meeting printers from all over the world and introducing them to hubergroup as a supplier for metal deco printing inks. I hope for many long-term relationships with new partners and customers.
What is your favourite Metal Deco Inks application and why?
Jan Museler: Just recently I visited a customer who prints long caps. I find this application particularly interesting due to its high technical level. It uses two different printing methods – offset and letterpress.
Luca Boni: In my opinion, metal packaging always makes products look more premium – so I generally like the application. Being Italian, however, my favourites are espresso metal boxes as you can find them in cafés.
Source picture 1: evgeny - stock.adobe.com
Comments