Tips for process optimisation in flexo printing by Juergen Urban
At hubergroup, we have significant experience in improving process optimisation, which is becoming ever more important in a highly competitive environment. In flexographic printing, there are many variables at work that need to be holistically addressed to ensure process optimisation. These include different printing substrates, various anilox rollers with different cell patterns, print resolution, the pick-up volume and diverse printing plate materials. But as a saying goes: "Rome wasn't built in a day!"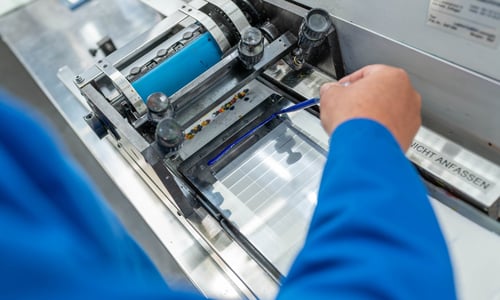 Important factors for process optimisation
Optimising operational workflow start with a complete review of the current state of the flexographic printing operation to identify individual processes that can be addressed fairly quickly to deliver early results. We especially recommend taking a detailed look at waste, costs associated with work order planning, and press downtime, especially as it is related to set-up times.
In working with many flexo houses, we have found significant potential to reduce set-up times, increase production speeds and improve accuracy, thanks to technical advances that have occurred in the last few years, including improved sleeve technologies for both, printing plates and anilox rollers, as well as various software and hardware optimisations. One important way to reduce set-up times is to perform colour optimisation before the file reaches the press, especially for repeat orders. Spending time on press adjusting colour is a key contributor to press downtime.
hubergroup's "First Time Right" approach
At hubergroup, we have identified a series of steps to help flexo operations stabilise processes to improve both total cost of operation (TCO) and Overall Equipment Effectiveness (OEE). These are readily adaptable to each individual customer, and our experts have significant experience in implementing these steps across a variety of operations, with measurable results! Think of this as a closed-loop system where we continually monitor performance and identify any new areas for potential improvements.
The primary steps involved in this optimisation process are:
Analysing the current process: Here we start with evaluating the effectiveness of current processes and defining Key Performance Indicators (KPIs) to help define the desired future state.
Calibrating the printing proofer. This is an important step that will help optimise colour preparation in advance so that, ideally, no colour optimisation is required at the press. We establish a reliable colour management system, starting with ink formulation right through to processing the left-over ink. Standard ink formulation software as well as a printing proofer are prerequisites here.
Determining the current state of the anilox rollers. Maintaining anilox roller volume is critical to achieving desired print quality and can be difficult. If the volume changes, the colour can change, losing the consistency customers expect.
Creating so-called thickness objects for the respective anilox rollers. Deeper engravings release less ink; a shallower cell results in more efficient ink transfer.
Adjusting the printing proofer. Here again, we want to make sure as much of the colour optimisation is done before the job is on press to improve press utilization.
Reviewing the process optimisation. We also take the time to go back and review everything we have learned and implemented, to make sure we have covered all the bases.
Analysing the results. Finally, we work with our customers to analyse the results we have achieved and look for opportunities to improve even more in the future.
In the first phase, we carry out the preliminary work, such as creating the optimum calibration data for the ink formulation software and providing theoretical training. During subsequent phases, our printing ink specialist actively assists with practical and individual support on site. After all, we don't just aim to convey theory, but also to provide practical support through a team of specialists who accompany every step of the way. Our experts also have extensive knowledge of the challenges that other printing houses face and can use that knowledge to help our customer to reach its individual potential.
As already mentioned, Rome wasn't built in a day. But it was built! By visionaries, who believed it could be done; and by doers, who turned that vision into reality. But not without a lot of sweat and hard work first. We take on a lot of that, making the process easier for our customers.
Ready to get started? Contact us today!
Comments