"We have the responsibility to decide on the usability of raw materials in our products"
The department Product Safety & Regulatory Affairs (PSRA) is an integrated and integral part of hubergroup's Chemicals Division. It is one of the most important functions of the Chemicals organisation. It deals with all chemical regulatory aspects. To find out more about the tasks and the current projects of PSRA, we spoke to Paolo Bonamigo, Head of PSRA, Europe.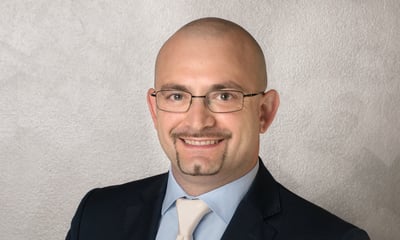 What is your job at hubergroup? And how does a "normal" day look like?
As head of the PSRA office, I'm addressing, together with my team, all topics and questions pertaining to how hubergroup products may be brought (and kept) to the market in a compliant way.
My teammates are all experts on specific topics. But overall, we deal with the request from customers and other hubergroup locations about various compliance topics, maintain our systems for the proper classification and labeling of our products. The approval of raw materials belongs to our responsibility as well as all activities related to REACH regulation, chemical inventories, and tariff codes proofing for our Chemicals portfolio. I myself coordinate all these duties and take care especially of what concerns our multiple activities in trade associations (e. g. EuPIA).
What are the topics you are working on right now?
PSRA is currently strongly focused on enabling the implementation of new profiles & knowledge, aimed to address all topics related to food contact materials, in the PM structures of SF/UV and F&G, by transferring knowledge and competence to the colleagues in the new positions.

We are also in close cooperation with our colleagues in UK and Turkey concerning the implementation of the UK- and Turkish-REACH regulations, which we started last year and will intensify in the next couple of years.
I am directly following the notification procedures in North America for some of our Chemicals products and some relevant topics coming from our association work. In particular, the developments around the European Chemicals Strategy for Sustainability (CSS). I also monitor permanently the development of regulations and classification of individual substances to translate this in information suitable to help orient the research and development process of our products.
How would you describe your department's role – internally and externally?
I would say that on one hand my department is like a consultant to many other departments. Not just on the regulatory topics or their development, but also on more practical aspects like labelling, dangerous good transportations, drafting of documents or answers to customers.
On the other hand, we have the responsibility to decide on the usability of raw materials in our products, or the suitability of products from the standpoint of certain regulations (e. g. applications for food packaging). Very recently, the publication of the CSS and the amount of activity that this is generating on trade association level has put PSRA in a lead role. Especially in terms of scouting these new trends and steering the upcoming internal activities related to it.
Externally, we represent the company in national (VdL) and European (EuPIA) trade associations and our interests in the multiple discussion tables and committees.
What is on the agenda for this year?
The agenda is pretty full, but I would underline particularly the ongoing work with regard to the improvement of our internal processes. As mentioned above, PSRA is working very closely to transfer knowledge and competence towards PM.
Due to its central role, PSRA is also strongly engaged in the building of the processes of the BU Chemicals such as a broad number of discussions, from management of chemical inventories obligation globally, to optimizing tariff codes attributions, developing documentations for our customers, generating scientific data on our products.
On top of that, the CSS is increasingly driving our association work and will soon bring about a series of internal activities to assess its impact on our portfolio. And it will also contribute to the development of hubergroup's own strategy for sustainability.
Have the topics changed in the last years and how have they changed?
Yes and no. Meaning that the bulk of the work remains constant, but all tasks related to improving our internal processes have increased in importance and priority.
And I surely notice a change in our activities with trade associations: It all has become more fast-paced and more demanding in terms of resources needed to follow topics and contribute to it. To give you one example: In Germany we experienced an unexpected and, honestly, unnecessary acceleration around the "German ink ordinance". The situation around the European Green Deal and the Circular Economy Action Plan is similar.
One of the core tasks of PSRA is, beside others, the support to hubergroup Print Solutions. Can you explain what this means practically?
PSRA keeps as a central function many horizontal activities, which are similar for both divisions. To name just a few: Raw material approval, REACH registrations and quantity tracking, support for implementation of REACH-like regulations, food contact compliance, toxicological support. In parallel, we are in a constant exchange with both divisions on regulatory development which have an impact on our product portfolios.
Sometimes there are peaks of activity more specific for each division. For instance, in the last months, we are increasingly and intensely working with Print Solutions on topics related to supply chain (e.g. labelling development and dangerous good transport).
For Chemicals division instead, we currently focus on chemical inventories, especially notification for new substances, and scientific data generation, as well as on the definition of tariff codes and the establishment of the new processes for the new division.
What do you like most about your job?
I feel privileged that my job puts me in contact with many diverse colleagues throughout the whole hubergroup organization. Even if sometimes the need to solve contingent issues overcomes the personal exchange, I enjoy every kind of interaction.
I also like very much the work in the trade associations, the discussions and exchange with colleagues from diverse industry sectors and other associations.
Finally, I like the task to constantly review a variety of information concerning regulatory trends. "Distilling" them in a reduced set of information, in such a way that is helpful and orienting to the colleagues in Product Management (PM) and R&D, is challenging and stimulating at the same time.
What qualities do you need in your job? And what makes good teamwork for you?
I realized I need a good balance between focus on specifics and broad overview of the various tasks of the department.
Also, I try to be as much available and listening as possible, for my team as well as for the colleagues of other departments. Especially in this moment, where current situation of diffuse and long remote working is creating new dynamics of interaction in and outside the office. This helps me maintaining a good level of teamwork in a period of time where personal interactions have to be forcefully reduced.
Comments