Welcome Suresh Kalra – our new Managing Director of hubergroup India & Head of RBU Asia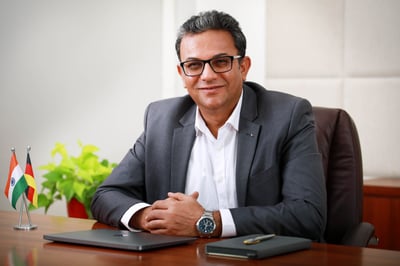 With several production sites hubergroup India is a key cornerstone of our company. Ashwani Bhardwaj has made a great contribution to this as Managing Director of hubergroup India. At the age of 63, he has now decided to take his well-deserved retirement on January 30, 2022. We wish him the best for the future and would like to take this opportunity to introduce his successor to you: Suresh Kalra.
Suresh has 23 years of experience in chemicals and specialities and an impressive history of driving business growth across various regions globally. He has had a successful stint with the likes of Total, Chevron, Pidilite, Valvoline & WR Grace. Before joining hubergroup, he was Managing Director and Vice President SI group – India, where he also served on the board of Korea & Singapore.
In September 2021, Suresh then joined hubergroup as Executive Director has already been inducted into the Board of Directors in the meantime. On January 1, 2022, Suresh Kalra will also become Managing Director of hubergroup India and Head of RBU (Regional Business Unit) Asia. "I am very excited to be a part of hubergroup and I am looking forward to accelerating the momentum in our chemicals business while continuing to strengthen our position in print solutions on the Asian markets," Suresh says. "My focus in this new position will be to leverage the company's unique product portfolio, the strong manufacturing base in India, and the exceptional talent in executing our growth strategy."
Welcome to the hubergroup family, Suresh!
Comments