What's happening on the UV flexo market?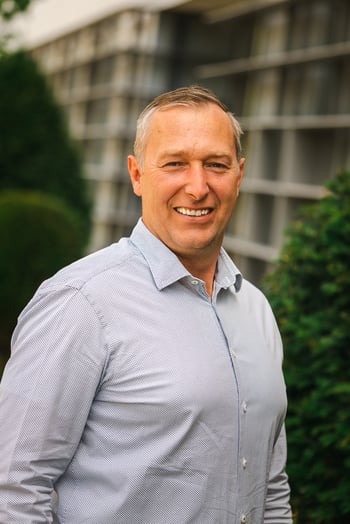 Whether for pouches, tube laminates, labels or shrink sleeves, the UV flexo market has grown around the world in recent years. But what is the reason for that? What differences are there in the global UV flexo markets and what trends are emerging? We sat down with Alexander Blasek, Global Project Manager UV Flexo at hubergroup, to take a closer look at this interesting market.
Thanks for taking the time, Alexander. You are responsible for hubergroup's UV flexo portfolio. Can you give us some insights into what's happening in the UV flexo market?
Alexander: We see a very strong increase in the UV flexo market worldwide. In Europe, for example, the growth rate is more than 5%, which is remarkable compared to other ink segments. And I expect the market for UV flexo applications to continue to grow within the next years. Moreover, it is evident that the topic of sustainability is becoming increasingly important in UV flexo printing – just like in the rest of the printing market.
Have you noticed any differences in the UV flexo markets around the world?
Alexander: While UV flexo printing is gaining importance all over the world, we can see differences in terms of technology and applications. LED products are in general increasingly in demand, but North America and Europe are in the lead here. In the EU, which is a forerunner in terms of regulatory standards, Food Contact Material (FCM) applications dominate the UV flexo market. Additionally, we found that electron beam (EB) curing is more popular in the US than in the rest of the world. In the Asian, African, and South American markets, the mercury technology still clearly prevails. The Asian and African markets also differ somewhat in terms of applications, preferring complex print images with more ornamentation. The Australian and New Zealand markets, although very small, are among the leaders in sustainability and safety.
Why do you think the market is growing so strongly?
Alexander: UV flexo inks and varnishes have many advantages – one of the most important is their broad field of application. They are suitable for a wide range of substrates and many applications are even only possible with UV flexo printing. So, printers can take on customer orders from various, new segments with this technology. While UV flexo printing originated in narrow web printing, it is now also commonly used on mid- and wide-web presses. Further significant strengths of UV products are their high resistance, good physical properties, and their fast drying. The ink cures almost immediately after the printed products have passed the UV lamp, which enables printers a fast finishing of their products. Moreover, the installation of the UV flexo technology is rather easy and cheap. Since the UV flexo market attaches great importance to promoting a circular economy, many inks and varnishes can also be deinked – that means the printed products can be returned to the material cycle after the removal of the inks and varnishes. This makes UV flexo printing a sustainable technology.
What are the differences between the various UV drying technologies?
Alexander: The LED UV technology is popular because it is environmentally friendly as well as energy-saving and has a long service life. However, the inks and varnishes for this technology are a bit pricier due to the raw materials used. Nevertheless, drying with mercury lamps is currently the most established technology. It is cheaper, but the use of mercury is often criticised. In the EU, for example, there is a threat of a ban on mercury vapour lamps because of their poorer environmental balance. EB curing is rather a niche market due to advanced technical and safety requirements as well as high purchase and consumption costs.
How is hubergroup positioned in the UV flexo inks and varnishes segment?
Alexander: At hubergroup, we have been offering UV flexo inks for more than 10 years, but for a long time the market was not a priority for us. In the last few years, this has changed. Our UV flexo inks and varnishes convince with good adhesion, low odour values, and an intensive colour strength. They can be used for a wide range of applications and, of course, also support fast printing as well as processing. Our NewV flex UF 4000 series is certified for deinking on paper according to INGEDE method 11 and can also be deinked on film according to the APR and EPBP 507 methods. Last but not least, we also have speciality products such as soft- or sand-touch varnishes.
Why should printers choose hubergroup as their partner?
Alexander: Our approach is: In UV flexo printing, the application determines which combination of products is suitable. With our expertise, we advise printers on how to select the right combination. Since we have inks, varnishes as well as primers and adhesives in our portfolio, we can offer a perfectly matched system. Finally, the majority of the raw materials for our products come from our own Chemicals Division, so we can guarantee highest safety standards and a reliable supply chain even in difficult situations.
Are you working on any new UV flexo products?
Alexander: We are intensively involved with UV flexo inks and varnishes for food packaging. We are working on several market launches in 2022, which meet the highest requirements for FCM (Food Contact Material) applications. So, stay tuned!
Comments