About ensuring safe food packaging: 9 factors that influence migration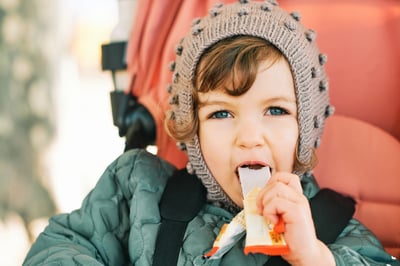 "Eating is a need, enjoying is an art", the French writer François de La Rochefoucauld once wrote. But when can you really enjoy your food? There are, of course, many influencing variables here, but the prerequisites certainly are: the food must smell, look as well as taste good and be harmless to your health.
When properly designed, packaging can help maintain exactly these properties of food during transport and sale, and it can even extend shelf life. But to ensure safe food packaging, it must be guaranteed that no harmful substances migrate from the packaging to the packed food. Inks must therefore also be designed in such a way that they do not alter the food.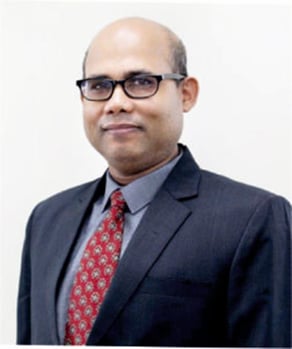 Prasanta Sarkar, General Manager Technical at hubergroup India, tells: "At hubergroup, we take the matter of migration very seriously. As early as 1997, hubergroup was the first printing ink manufacturer to recognise the impact of inks on food packaging and established low-migration inks and coatings for food packaging without a functional barrier."
Since then, hubergroup's offset inks and coatings for food packaging carry the add-on "MGA", which is an abbreviation for the German words "migrations- und geruchsarm" (low migration and low odour) and gives a low migration guarantee. In 2010, we even created a 10-point MGA guarantee, which has since served as a new safety standard for food packaging inks and is used worldwide. This includes aspects such as that MGA products are manufactured in a completely separate production facility and the low migration property is tested at the end of every production run.
"Our MGA products are manufactured under particularly strict standards and have migration values well below the permitted levels. They, thus, combine great printability with the best migration values currently available," Prasanta Sarkar adds.
So, inks and coatings are an important factor for safe food packaging, yet they are not the only factor influencing migration. But what else needs to be considered?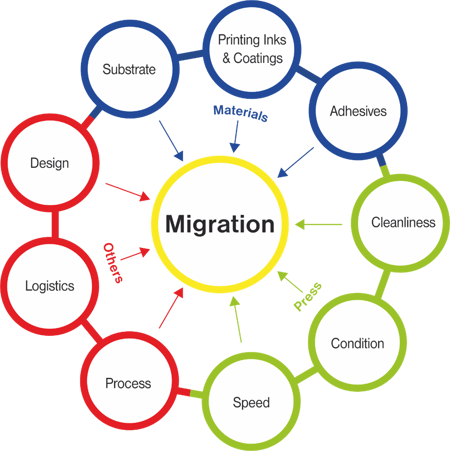 Substrate: The substrate must satisfy the requirements of food packaging and be suitable for the respective printing process. Its own organoleptic properties are equally relevant.
Adhesives: It is important to select the right adhesive products as substances from adhesives can also migrate to packaged food.
Cleanliness: There should be no residues of the wash-up solution or of standard (non-food packaging) inks from the preceding production run in the roller materials or somewhere else in the press.
Conditions: The proper maintenance of the UV or IR lamp as well as the dampening system and the condition of the coating unit are crucial. Unfavourable pressroom conditions and improper machine maintenance will increase the migration risk.
Speed: Especially when using UV-curing inks, the press speed will influence the curing of the ink and may result in undesirable migration if curing is incomplete. One should check at regular intervals whether the UV lamps emit enough energy at the given press speed to trigger and complete the crosslinking reaction.
Process: All parties (ink suppliers, printers, and converters) involved in the production process must exchange as much information as possible among themselves to assess potential migration risks.
Logistics: Transportation and storage can also influence the migration potential. Conditions such as temperature, moisture, and ventilation, as well as any strong-smelling constituents can have negative effects on organoleptic properties and migration.
Design: To conduct a successful migration risk assessment, the design must include many factors such as selecting the right printing process, applying the right amount of ink to the packaging as well as considering the proportion of applied ink to the content's weight and surface.
Interested in learning more about migration? Read our interview with Prasanta Sarkar.
Source visual 1: annanahabed - stock.adobe.com
Comments