An unbeatable team: HDCC now features digital print folders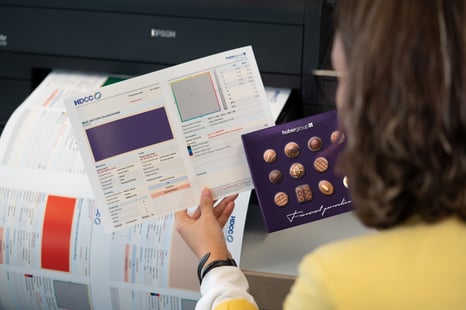 In commercial and packaging printing, colour accuracy, speed, and cost-effective production are decisive. Ensuring 100% colour accuracy is, however, a time-consuming process. In order to verify a recipe to its target, it needs to be weighed, mixed and printed physically with a laboratory printing device. This elaborate process limits the output speed and flexibility.
The team around Heinz Aumüller, who is responsible for Prepress and Process Standardisation at hubergroup, has therefore been working on a digital solution, which combines a faster production with high accuracy. These "digital print folders" are based on the technology of GMG ColorCard and printed with a special 11-colour proofing printer on an inkjet basis. By using orange, green, and violet inks the printer can cover a very large colour gamut. A special profiling technology combined with high-quality proofing substrates provides an accurate spot colour simulation.
Heinz reports: "We have carried out extensive testing to ensure that our customers receive the same, if not better, quality as before. Our test customers have been very convinced with the results in terms of colour accuracy, reproducibility, and lightfastness. Moreover, it was important to us to remain true to our reliable quality verification process and to our detailed print folder layout, which is very popular among our customers due to its detailed information."
A special feature is the complete integration of the digital print folders into HDCC, hubergroup's colour management system. This enables a fully automated digital print folder communication, which has not been available on the market so far. Heinz explains: "The digital print folder is verified based on the final physical match and follows the same verification rules as the analogue print folder. Once the data is stored in HDCC, we can print the digital print folder directly out of HDCC. This makes HDCC and the digital print folders an unbeatable team, as they allow a faster production and much more flexibility for our customers."
Find more information here: https://lp.hubergroup.com/en/hdcc
Comments