Chetan Naik: "When you gift to your loved ones, you want to be sure that these gifts are safe"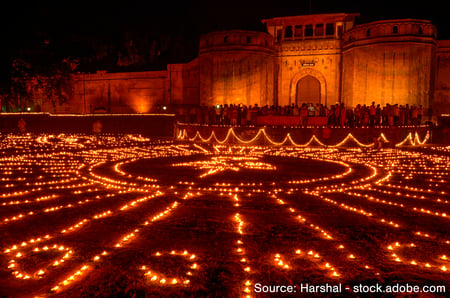 For Indian people, Diwali is a very special holiday – similar to Christmas in other regions of the world. People spread their love, affection, and care by giving gifts such as sweets, chocolate, or dry fruits to their loved ones. With this in mind, hubergroup India has decided to draw attention to a special topic this Diwali: food safety. After all, when you give something to your family or friends, you want to be sure that these gifts are safe. We spoke to Chetan Naik, Vice President of Sales & Marketing at hubergroup India, to learn more about having a safe Diwali.
What is Diwali all about?
Chetan Naik: Diwali or Dipavali is the festival of lights. We celebrate the victory of light over darkness. In most regions, the festival lasts five days, during which people spend time with their families and friends, celebrate and light firecrackers. The houses and streets are decorated with oil lamps, hanging lights, and lanterns. Diwali has its origins in India but celebrations can be seen all across the globe where Indians stay. Because of its social significance and its joyful character, it is comparable to Christmas. Similar to its Christian pendant, we give gifts to our family and friends to show our affection. On top, we also share presents in the business world. In Western India, Diwali is also a New Year's Day.
What do people usually give as gifts on Diwali?
Chetan Naik: The most common gifts are certainly homemade traditional delicacies, and, more recently, also sweets, chocolates, or dry fruits sourced from shops. But people also like to give general items like clothes, electronics or household utensils as gifts.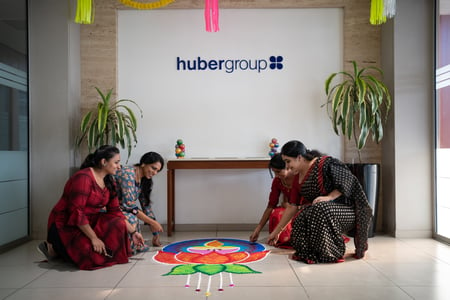 How is Diwali celebrated at the hubergroup locations in India?
Chetan Naik: We have small celebrations across all offices in India. For example, at the corporate office in Vapi, we had a rangoli celebration where employees decorated the office with flowers and coloured drawings. In addition, all hubergroup employees in India also receive a Diwali gift box each year, which contains dry fruits.
You have paid particular importance to the composition of the Diwali gift boxes. What is special about them?
Chetan Naik: Safety and sustainability are the two most important factors for us when it comes to food packaging. We have taken this into account in the design of the Diwali Boxes. We chose eco-friendly cardboard as well as our low-migration and low-odour inks of the NewV pack MGA series, which are also deinkable. In close cooperation with the designers and the packaging printer, we ensured that the entire production process was both safe and sustainable.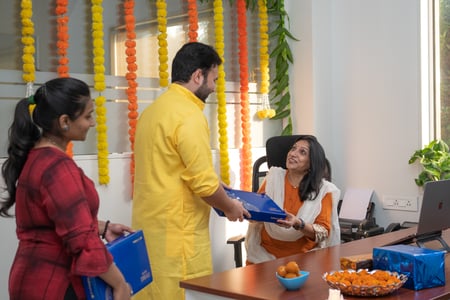 Also, in communicating with our customers, you used Diwali to draw attention to food safety. Why?
Chetan Naik: Food safety is an important topic. In the past, there have been repeated cases of food contamination on the market due to incorrect packaging or transport. This must not happen. There are many influencing factors on migration and, as an ink manufacturer, we want to do our best to ensure that food is and stays safe. For us, this also includes sharing our expertise. We found that Diwali is a perfect occasion to address this topic, as people show their affection by gifting each other with chocolates, for example. And when you gift to your loved ones, you want to be sure that these gifts are safe.
What needs to be considered for safe food packaging and which role do inks play in this?
Chetan Naik: Many factors must be taken into account to ensure safe food packaging: The materials used such as the substrate, the inks as well as coatings and the adhesives are, of course, crucial, but the printing and packaging process as well as logistics also play a role. For example, it must be ensured that the printing press does not have any residues of other inks that are not approved for food. At hubergroup, we contribute to the highest safety standards with our special MGA products. MGA stands for German "migrations- und geruchsarm" which means low migration and low odour.
How do MGA inks differ from standard inks?
Chetan Naik: With MGA, hubergroup offers the highest level of safety in printing inks for food packaging. We ensure that substance transfer is kept at a minimum level and contamination risk is excluded. While some ink products in the market allow higher migration levels, MGA offers the best processing properties while guaranteeing the lowest migration values. We have strict standards for developing and producing MGA products that exceed the demands of official guidelines such as by EuPIA. For example, the raw materials used for our MGA product go through a strict MGA-specific process and batch tracing is guaranteed along the entire MGA value chain, right back to the raw materials.
Besides safety, sustainability is a key consideration for packaging. To what extent is this aspect taken into account with MGA inks?
Chetan Naik: Our MGA inks are easily deinkable, and, thus, support the recycling of packaging and a circular economy. MGA products have no negative effect on the environment.
And last but not least: How did you personally celebrate Diwali?
Chetan Naik: After two years of Covid break, Diwali was very special this year. We were all thrilled to finally be able to properly celebrate with family and friends again. I spent Diwali days celebrating with my family at home. For me, this is always a very special time.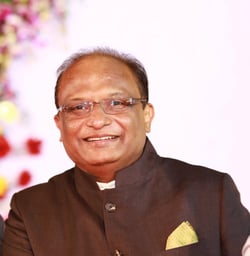 Chetan Naik is Vice President of Sales & Marketing at hubergroup India and has been working for the company in various positions since 1995. He is presently heading the Offset Division in India and neighbouring countries. Chetan Naik graduated from the Government School of Printing Technology (Sir J.J. School of Arts), Mumbai, as a professional Printing Technologist.
Comments