Deja Link trusts hubergroup for isopropanol-reduced offset printing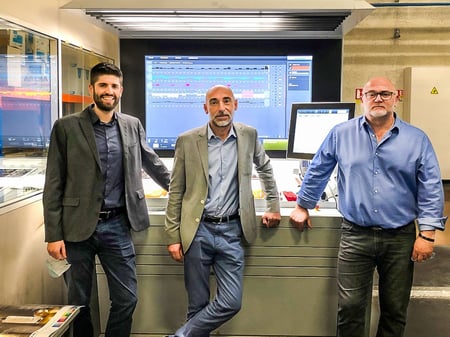 "We aim at reducing alcohol from our production process, for technical and CSR reasons" declares Florian Marciniak, Process and Quality Director at Deja Link. Thereby, the French commercial printer wants to ensure a more sustainable printing process because isopropanol, the alcohol used in offset printing, is a volatile solvent that for the most part evaporates during the printing process. Once it enters the atmosphere, isopropanol contributes to summertime smog.
Nevertheless, many offset printers are still holding on to isopropanol. Frédéric Kocher, Head of Product Development Fountain Solution at hubergroup Print Solutions, explains this as follows: "As the printing behaviour is much more flexible, printing without isopropanol requires a lot of sensitivity and fine adjustment."
When printers want to switch to alcohol-free printing, it is, however, helpful if they reduce the isopropanol content at first step by step, as this allows them to develop the necessary sensitivity. And this is also the approach Deja Link takes. Thereby, the company relies on hubergroup as its partner. Florian Marciniak says: "We have been working with hubergroup since 2011 and always received technical expertise when we needed it. That is why hubergroup is exactly the right partner for us in this process."
The commercial printer specialized in demanding jobs, for example with metallic inks or spot colours, relies on a combination of hubergroup products for a smooth transition: the ink series ECO-PERFECT-DRY and the only recently launched fountain solution additive PERFECT-DRY-FIX. Frédéric Kocher outlines: "PERFECT-DRY-FIX supports alcohol-free printing and is an optimal complement to our ECO-PERFECT-DRY inks. Both products promote a fast printing process and are characterised by a sustainable formulation. In combination, they ensure a particularly high-quality print image and harmonious production with little effort."
Florian Marciniak confirms this: "We are very satisfied with the hubergroup's system solution. While we have been using ECO-PERFECT-DRY for a while now, we only recently switched to the new fountain solution additive. PERFECT-DRY-FIX enabled us to reduce the alcohol amount and it also showed very good reactivity after stops, which was also an important criterion for us. We can therefore totally recommend this product combination."
Picture: Our colleagues Nicolas Gasnier and Martial Boissou support Deja Link on site.
From left to right: Florian Marciniak (Deja Link), Nicolas Gasnier (hubergroup France), Martial Boissou (hubergroup France)
***
French version
Deja Link fait confiance à hubergroup pour l'impression offset à teneur réduite en alcool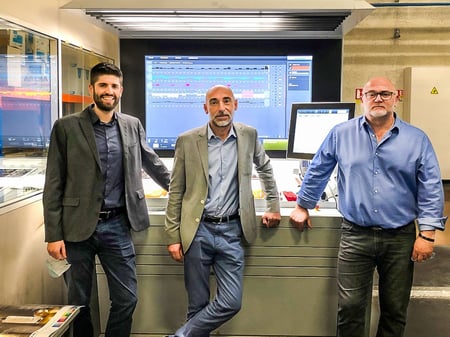 « Nous visons à réduire l'alcool de notre processus de production, pour des raisons techniques et de RSE », déclare Florian Marciniak, Directeur Process et Qualité chez Deja Link. Ainsi, l'imprimeur Français veut assurer un processus d'impression plus durable car l'isopropanol, l'alcool utilisé dans l'impression offset, est un solvant volatil qui s'évapore pour la plupart pendant le processus d'impression. Une fois qu'il pénètre dans l'atmosphère, l'isopropanol contribue aux fortes densités de smog.
Néanmoins, de nombreux imprimeurs offset continuent à utiliser l'isopropanol. Frédéric Kocher, responsable du développement des Additifs de Mouillage chez hubergroup Print Solutions, explique ceci comme suit : « Comme le comportement d'impression est beaucoup plus confortable avec alcool, l'impression sans isopropanol nécessite beaucoup de sensibilité et de réglage minutieux. »
Lorsque les imprimeurs veulent passer à l'impression sans alcool, il est toutefois judicieux qu'ils réduisent la teneur en isopropanol dans un premier temps étape par étape, car cela leur permet de développer la sensibilité nécessaire. Et c'est aussi l'approche adoptée par Deja Link. Ainsi, l'entreprise s'appuie sur hubergroup comme partenaire. Florian Marciniak déclare : « Nous travaillons avec hubergroup depuis 2011 et avons toujours reçu une expertise technique lorsque nous en avions besoin. C'est pourquoi hubergroup est exactement le partenaire idéal pour nous dans ce processus. »
L'imprimeur spécialisé dans les travaux exigeants, par exemple avec des encres métalliques ou des couleurs d'accompagnements, s'appuie sur une combinaison de produits hubergroup pour une impression en harmonie : la série d'encres ECO-PERFECT-DRY et l'additif de mouillage PERFECT-DRY-FIX, lancé récemment. Frédéric Kocher souligne : « PERFECT-DRY-FIX prend en charge l'impression sans alcool et constitue un complément optimal à nos encres ECO-PERFECT-DRY. Les deux produits favorisent un processus d'impression rapide et se caractérisent par une formulation durable. En combinaison, ils assurent une image d'impression d'une qualité particulièrement élevée et une production harmonieuse avec un minimum de contraintes.
Florian Marciniak le confirme : « Nous sommes très satisfaits de la solution globale proposée par hubergroup. Alors que nous utilisons ECO-PERFECT-DRY depuis un certain temps déjà, nous ne sommes passés que récemment au nouvel additif de mouillage. PERFECT-DRY-FIX nous a permis de réduire la quantité d'alcool et il a également montré une très bonne réactivité après les arrêts, ce qui était également un critère important pour nous. Nous pouvons donc recommander totalement cette combinaison de produits. »
Photo : Nos collègues Nicolas Gasnier et Martial Boissou soutiennent Deja Link sur place.
De gauche à droite : Florian Marciniak (Deja Link), Nicolas Gasnier (hubergroup France), Martial Boissou (hubergroup France)
Comments