hubergroup France strengthens its team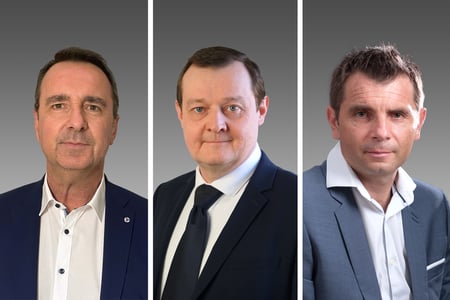 "As the requirements in the printing market are changing quickly nowadays, customers have an increased need for advice," Adrien Pflieger, Managing Director at hubergroup France, explains. "A few years ago, we at hubergroup France, therefore, decided that we wanted to support our customers more strongly with our know-how. That's why we have trained our team intensively to advise customers in implementing new technologies as well as regulations and optimizing pressroom processes."
To further support this transformation towards a leading service partner, hubergroup France has now also strengthened its team with three new Sales Directors: Olivier Gibert for Flexo & Gravure, Thierry Seemann for Sheet-fed/UV, and Philippe Urbaniak for Web Offset. All three are experts in their field and have many years of experience in the French printing market.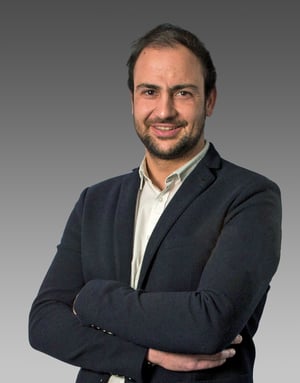 "To stay ahead of the rapidly changing market requirements and be able to advise our customers well, we need a strong and committed team," says Adrien. "Thus, I'm very pleased that we have been able to get Olivier, Thierry, and Philippe as new Sales Directors on board. They will help us to support our customers even better in meeting current and future demands of the industry."
Upcoming requirements, for example, include printing with mineral oil-free inks. The French market is considered a pioneer in this respect, as the country already set a deadline for the ban of mineral oil in inks. hubergroup has prepared well for this: For instance, we relaunched our sheet-fed ink series RAPIDA ECO with a mineral oil-free formulation last year, and we are already testing appropriate products for the web offset sector. In addition, we, of course, offer a wide range of mineral oil-free inks for food and non-food packaging printing.
Adrien concludes: "We face the future of the printing industry with excitement and joy. There are certainly many challenges, but those inspire us to be creative and develop further. Thus, we are looking forward to finding new solutions for future requirements together with our customers, our partners, and our new colleagues." 
Find out more about Olivier Gibert in our interview and stay tuned for more employee stories on our blog.
Picture 1: Our new French Sales Directors: Thierry Seemann, Philippe Urbaniak and Olivier Gibert (from left to right)
Picture 2: Adrien Pflieger, Managing Director at hubergroup France
Comments