Low-migration inks for safe and colourful food packaging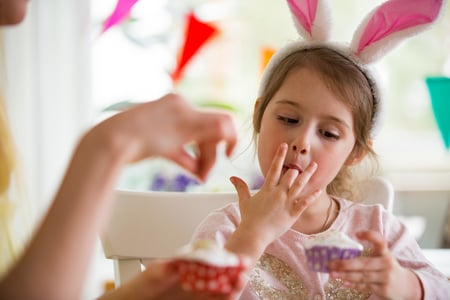 Easter time is chocolate time. Chocolate eggs are packaged in the most colourful foils. However, for these – and all other food packaging – special printing inks are needed to ensure that no ingredients of the ink migrate to the food. Our laboratory experts are particularly familiar with these low-migration inks because they analyse them and advise our customers on the right ink usage.

We spoke to Dr Ulrike Canella, Head of Product Development, and Dr Maximilian Krempe, Head of Central Analytical Lab. They explained to us how hubergroup's inks ensure food safety.
Thank you both for your time. Can you please explain what "migration" means in the context of printing inks?
Dr Ulrike Canella: Migration means the potential transfer of substances from printing inks into food. To prevent this, we carefully select the ingredients for our inks. This way, packaging can be designed visually appealing to customers while food safety is guaranteed.
In which other areas are low-migration inks important?
Dr Maximilian Krempe: Basically, these inks are relevant whenever people ingest the product in any form. In addition to the food industry, the pharmaceutical and tobacco industries are particularly relevant in this context.
What are the negative effects of migration?
Dr Maximilian Krempe: On the one hand, we want to prevent at all costs that products are toxicologically questionable. The second aspect is a sensory one: even if a substance is toxicologically harmless, it can negatively affect the product in terms of odour or taste.
Low-migration inks were considered innovative in the 1990s. How unhealthy was food packaging back then?
Dr Ulrike Canella: As long as you don't eat the packaging, you can't talk about it being unhealthy. Nevertheless, the ingredients of inks were not examined as carefully in the past. The rules and clear limits that apply today are very important and proper.
Which body monitors compliance with these regulations?
Dr Ulrike Canella: There are legal requirements for the use of printing inks that apply throughout Europe. In addition, there are country-specific laws. In Germany, for example, the Printing Inks Ordinance was recently published. We as an ink manufacturer, and also our customers, are responsible for complying with these legal requirements. For all substances in printing inks intended for food packaging, there is a so-called "specific migration limit." These values do not only apply to inks, but to everything associated with packaging, such as substrates in adhesives.
What importance do low-migration inks have for hubergroup?
Dr Maximilian Krempe: Packaging, and food packaging, in particular, is extremely important to us as an innovator. With the quality of our low-migration inks, we are very well positioned in the market. At the same time, the demand for these inks is very high, so production is increasing.
Which services around low-migration inks does hubergroup offer?
Dr Maximilian Krempe: In our laboratories, we conduct migration and sensory tests to ensure both the safety and quality of our customers' products. Substances that you can smell and taste can usually also be detected chemically. By the way, this is complemented by our human senses. The olfactory and gustatory organs are very sensitive among our well-trained testers.
What does a migration test look like in your lab?
Dr Ulrike Canella: First, we print small test strips or receive print samples from customers, which we cut to size accordingly. These test strips are stored together with a stimulant for a defined time at a defined temperature. The stimulant simulates the food. At the end of the storage period, we check which substances have been transferred to our simulated food and in what quantities. From our analyses, we calculate whether or not the specified limits have been met.
That sounds comprehensible and safe. Despite international laws, standards, and defined limits, there are still product recalls because food contains substances from printed packaging. How can this still happen?
Dr Ulrike Canella: Ink manufacturers only make up a very small part of the packaging chain. There are different variables, such as the drying of the ink or the nature of the materials to be printed. At hubergroup, we make sure that our inks cover all requirements but we have little influence on whether they are actually used for the right applications.
Dr Maximilian Krempe: There are also many other sources of increased migration values. For example, substrates from boxes or adhesives can have an influence. No matter how good the printing ink is. The causes are diverse.
Dr Ulrike Canella: That's right. And that's also why we try to be as advisory as possible. We provide our customers with very clear technical information for all our series. We inform them what applications the series is intended for, what they have to pay attention to, and which cleaners they have to use for their machines. We see it as our duty to inform and advise our customers.
Low-migration does not mean migration-free: Is it possible to completely avoid ink migration?
Dr Maximilian Krempe: Realistically speaking, it will probably never be possible to produce completely migration-free inks. You can't trick chemistry. The question is: is such an ink really necessary? Theoretically, there could be barriers in packaging that completely prevent ink migration. However, this is very time-consuming and expensive, which is why brand owners often refrain from using them. But if our inks are used correctly, there is no need for these considerations.
Dr Ulrike Canella: I agree with that. I think it's much more important to know which inks to use and how.
Furthermore, Dr Ulrike Canella and Dr Maximilian Krempe talked about the future of food packaging, possible development potential, and trends in the field of food safety. Watch the video for part two of the interview.
Picture source: Suzi Media / stock.adobe.com
Comments