Noé Micmacher: Our customers are our partners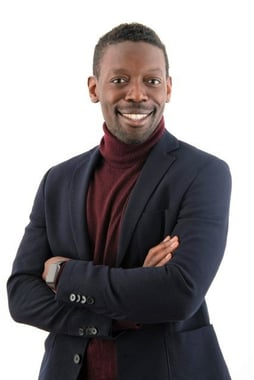 Noé Micmacher joined hubergroup France about seven years ago after having gained many years of experience as a Technical Support Specialist and instructor for different types of presses. Today, the 37-year-old is Sheet-fed/UV Packaging Manager and manages the French packaging activity from a commercial and technical point of view. In an interview, we learned why Noé enjoys his work and got to know his curious side. Are you curious as well?
Why did you decide to work in the printing ink sector in the first place?
Noé: Near the end of my high school studies, I was trying to figure out what I would like to do and which career path to take going forward. It was my father who suggested considering the printing ink industry as an option. My father was an architect and designed the plans for a local print shop. He fell in love with this world and shared it with me. I have never regretted that decision.
What do you like most about your job?
Noé: What I enjoy most is working in diverse environments with different types of clients as well as colleagues. Meeting new people, learning about their routines, their ways of thinking and their approaches to tasks is something I personally find very enriching and inspiring. In my opinion, development or reflection is not possible without exchange.
What does particularly appeal to you about hubergroup?
Noé: Before I joined hubergroup, I knew the company as a competitor and everyone in the industry was (and still is) aware of hubergroup's strength, pioneering work, and its tireless effort on improving its products to the max. This very strong image within the printing inks cosmos helped me make my decision to join hubergroup when I was offered the opportunity. What is particularly appealing to me is that the picture I had in my head of hubergroup turned out to be true, and I'm proud to be part of a company that is constantly pushing to stay on top and expand its business areas.
What was your most favourite moment since you have started working for hubergroup?
Noé: That was most definitely my first visit to the Kirchheim plant. Watching, following, and understanding the complexity of each different step of ink manufacturing was highly impressive to me.
How do you spend your free time?
Noé: Growing up, I was playing rugby and football, and I'm a big fan of team sports in general. But due to a lack of time, I discovered running for me. A personal passion, as well as my biggest hobby, is playing music, which I've neglected quite a bit in the past years. But I've recently started again – this time it's learning to play the bass guitar. So far, I've played many different instruments such as trombone and acoustic drums. I even try to compose music by creating my own samples. Generally, I'm a very curious person: I love to try out new things, challenge my existing skills and develop new ones.
And at last, but most importantly: I enjoy spending most of my free time with my wife and two children, a girl of 6 and a boy of 3 years old.
What is the fact you like most about your country?
Noé: France is a country that offers many liberties, which I admire and appreciate. France's rich cultural and historical heritage is something I can't learn enough about. Plus, its diversity of landscapes and, finally the delicious food across the country fulfils my culinary dreams.
What is the most important professional goal you are currently working towards?
Noé: For me, the most important thing is to listen, to actively listen, in order to better respond to the needs of what I consider as partners rather than customers. The most important professional goal that I am currently working towards is to involve all my collaborators on a daily basis so that we can use all these different skills for one common goal: satisfying our partners.
And finally, what is your favourite colour and why?
Noé: I find it difficult to define a single colour. For me, the value of a colour comes out when it is combined with one or several other colours. One colour alone is a bit ordinary. If I have to choose, I would say Pms 2592 [purple].
Comments