Thierry Seemann: "Colour brings joy – even on rainy days"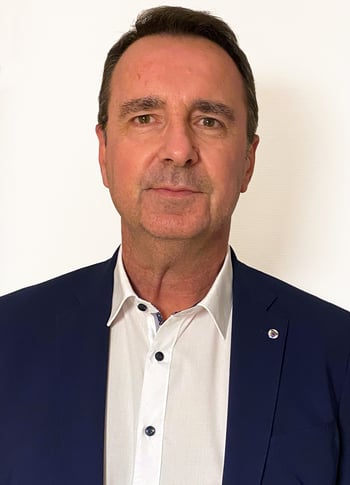 To increase its focus on service leadership, hubergroup France has recently reorganised itself. As part of this, Thierry Seemann joined the French team as the new Sales Director for Sheet-fed/UV in November 2021. After working for various leading packaging manufacturers for many years, he had decided to take on an exciting new mission and move to the ink side of packaging. He is a real asset to the French team – thanks to his experience in solid and corrugated cardboard packaging for industries such as food, cosmetics, or pharmaceuticals, he knows the needs of packaging manufacturers and their customers well. We talked to Thierry to learn more about his life and his new task.
Why did you decide to join hubergroup?
Thierry Seemann: I was looking for an exciting mission that would allow me to be happy both in private and business life. I chose hubergroup for three reasons: the range of products, the brand image, and the task of developing hubergroup's French business in the commercial and packaging market.
What do you like most about your job?
Thierry Seemann: I like the fact that every single day is different, and I'm excited about building and driving a sales team for the future of hubergroup in France.
What do you see as the biggest challenges in the sheet-fed/UV offset business?
Thierry Seemann: The market requirements are currently changing rapidly due to new regulations, recommendations, and technologies. So, for all partners in the business, it's a challenge to keep track and adapt processes accordingly.
For hubergroup, I see an additional challenge in the fact that we are playing in a market with many good established competitors. However, we have extensive knowledge and experience as well as a great product portfolio. Thus, we can always support our partners with convenient solutions.
…and where do you see the biggest opportunity?
Thierry Seemann: I believe that service and the transfer of know-how are crucial in the current market situation. hubergroup has a well-structured, strong team in France that is increasingly focusing on advising partners and customers in the pressroom. This enables us to work together to increase the efficiency and environmental friendliness of their processes.
What was your most unusual customer request?
Thierry Seemann: Some years ago, on a Friday evening around 7 pm, one of my biggest customers located in Berlin gave me a call. One of our products didn't work on his machines and he had to produce over the weekend to be able to deliver on time. I got into the car and after seven hours of driving, I arrived. Only 15 minutes later, I was back in my car to Strasbourg again … the product he complained about was from one of our competitors. He never even apologised for this!
If you had one wish to be fulfilled, what would that be?
Thierry Seemann: Although it sounds unrealistic, I really hope that one day everyone can live in a safe world. It is still a long way to go.
How would you describe yourself?
Thierry Seemann: I'm definitely a team player and the well-being of the people around me, both on a personal and business level, is the most important thing in my eyes.
In your private life, you are keen on doing golf. Where does this passion come from?
Thierry Seemann: My wife and I were looking for a new activity to do together and decided to start playing golf. When you are playing golf, especially as a beginner, you have to concentrate 100% on what you do. In other words, you must forget everything else, otherwise, you can be sure that it will not be a good golf day. That's what I really like about golf.
And finally, what makes colours special to you?
Thierry Seemann: Colour brings joy – even on rainy days.
Comments